As I hold up the old wooden camera by its thin leather handle, a camera that feels like a step out of time, a throwback to the early days of photography, their eyes go wide.
"Hi, may I make your photograph," I ask.
"Wow, look at that," they say with a smile. They watch as I extend the bellows, mount the lens and set up the view on the ground glass while covered by a dark cloth.

I thread the cable release into the shutter, insert a film holder, pull the dark slide, direct their pose, then make their portrait.
They may think that's the end of it, but oh, no, that's definitely not how this ends. It's just the beginning. I take the film home, process it by hand, and then print a photograph for them and put it into a black frame, titled and signed.
Then, having taken their contact information, I show up with the final print–a work of art, a gift to them. They light up. They're look beautiful and they love the quality of the portrait that I've made of them, as much as I love it!
It's a pure gift. There's no transaction–it's genuinely priceless.
There's just delivery.
I met this man sitting outside his garage in Longmont, which was filled with hats. I asked for his portrait, and he gladly posed.
His portrait delivered:

There's never any cost. There's no price anyone can pay. The framed photographs are simply gifts.
"I don't know what to do now. What's the protocol, do I owe you something?" they ask.

"No, thank you, enjoy, it's a gift. I'm honored to have my work in your home gallery."
I find making these portraits the most wonderfully creative work I can possibly be doing.
If they want additional prints, those are also gifted. This is a project that will not generate income–that's not its purpose. The prints are truly priceless.
This man I found in a rural town, Johnstown, Colorado, sitting with his dog on his porch, his swans decorating his lawn.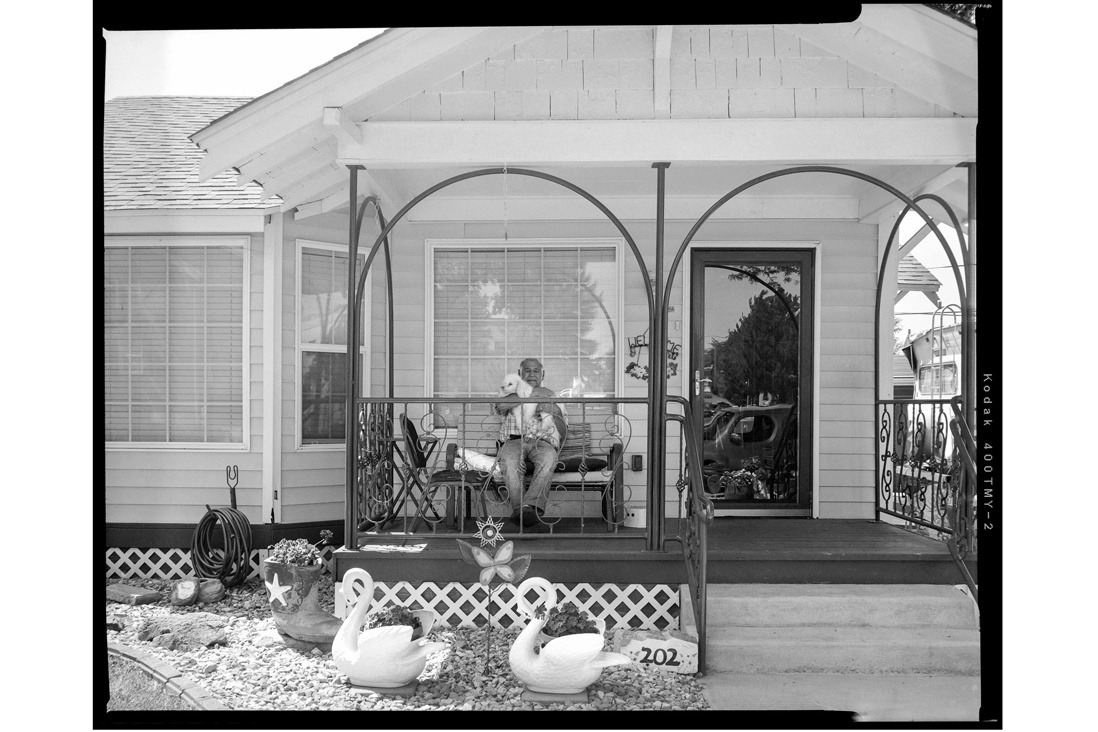 My name is Kenneth Wajda. I'm a photojournalist and professional photographer. That's what I've been for the last 30 years. And I love it, documenting people's stories, making portraits.
But in 2020, in this present pandemic situation, there is no client work. There are no scheduled shoots. Conferences and events have been canceled. Photo shoots have been rescheduled.
What's a creative to do? I need to create, nonetheless. It's what I do.
This craftsman was working in his wood shop in Longmont when I met him and asked him to make his portrait.

This man is the chaplain of a tiny church in Johnson's Corner, Colorado, and was so happy to have his portrait made.

Two photographs delivered:

These three friends were sharing lunch at Carter Lake in Colorado, enjoying their time outdoors, and glad to pose together. I printed and delivered a framed print to them.


Since spring of this year, I've been making photographs of people. Environmental portraits you would call  them. Magazine-style personality portraits. People in their world. Doing things that reveal a bit about them–at play, at work, depending on where I find them.
Photographing their light!
This young girl was sitting in the back of her Mom's car with her dog, waiting for her Mom while she was in the grocery in Hygiene, Colorado. After getting permission from her Mom, I made this portrait.


I've been using a Wista 45DX, a large wooden camera that shoots 4″x5″ film, like they used to use back in the early days of photography. Black and white film. The camera feels like a big deal, and so the subjects feel like a big deal being photographed with it.
 These two were fishing with their Dad in Longmont. Perfect for a portrait.
In a world where people say, "There is no free lunch," I challenge that and say, "Well, there is today."
There are no strings attached. My father has asked, "How do you make money with this?" I explain I don't. "This isn't about profit, this is a gift."
If anyone offers payment, I don't accept it. I explain that would defeat the whole purpose of creating this photograph as art. I hand them the framed printed photograph and explain that I am honored to have my work displayed in their home, as I have my work hanging in "home galleries" around the U.S.
Some of the framed photographs in my studio awaiting delivery:
I've been printing and framing portraits and photographs for friends and family for years. But this work is different.
This project started as a result of being out of work, and needing to create art and give something back, and it really is an honor to gift them, hand them to people who never expected to see a finished high-quality photograph of themselves made on large-format film, art that can live on for future generations.

Adam rolled up on his Harley as I was photographing the iconic Jerry D's Bar in Dacona, Colorado, that he is the new owner of. I asked for his portrait.


I don't need very much to keep the project going. The picture frames I pick up at yard sales and thrift stores.
The chemicals to process the film is a negligible cost since I don't need to use a processing lab, but process it myself at my studio.
Photo paper is not very expensive and I can afford to make the prints.
The biggest expense is film. I use Bergger Panchro 400 4×5 film, a French film that is beautiful in black and white. A box of 50 sheets of 4×5 film is $67.95. My goal is to raise enough funding to pay for 20 boxes of film, 1000 sheets total. That equals $1359. 1000 sheets will keep the project going for many more months, and hopefully by then, my commercial work will resume.
Did I mention that this is work that I love to do? That I live for? To see the looks on people's faces when they see the final framed photograph, delivered as a gift to them? That's priceless and it's what keeps me going out every day to look for more people to photograph.
 These two are cousins, and were together for a yard sale, so I asked if I could photograph them together.

Delivered to their porch if not home:

Once received, I got this beautiful note:
If I had one job to do the rest of my life, if I could do only this, making these photographs, that would be so gratifying. To be able to create these photographs for people, strangers (who are really not strangers at all, but friends I'm just meeting now for the first time) with my large wooden camera as an introduction, that would be a dream job.
Long term, I would love to take this project across the U.S. and photograph people in every state, but I don't expect to have funding for this, so I plan to return to my commercial photography and editorial work and self-fund those portraits once the pandemic is over.
But I can never let it go, never stop making these large 4×5 portraits now that it's going, that it exists, and I know the joy it brings to the people who I am fortunate to meet, to photograph, to get to know a little bit.

Leslie is the owner of East Simpson Coffee Co. in Lafayette, Colorado, and asked me if I was photographing her coffee shop. I said, "If you'll be in it."


If you can help with a few bucks to help me meet my goal, I'll use it to buy film and keep the project going. If I raise more than my goal, it will go toward more film and more photographs, and even allow me to take the project to more states in the future as I travel for my editorial and commercial assignments.
This couple was about to go out onto Carter Lake in Colorado, but not before applying sunscreen. And a pose for a portrait.


Who knows? Maybe one day, you'll be doing what you love to do and our paths will cross. I'll say hello, ready to make a new friend, and walk up to you with my old wooden camera and say, "Hi, may I make your photograph? It would be an honor to gift you a portrait."

"Thank you for helping me continue making these beautiful portraits!"
www.gofundme.com/f/buy-4×5-film-to-gift-art-portraits-of-people
~Kenneth Wajda