It was the Spring of 2004, I had just moved to Colorado in 2001 and was living in Canon City which sits just 12 miles from the famous Royal Gorge Bridge overlooking the Arkansas River turned into a theme park. At that time, there was a second attraction that sat next to the bridge–Buckskin Joe, an old pioneer town theme park complete with hourly gunfights.
My Outlaw Days
I was one of the gunfighters. Slicker, check. Cowboy hat, check. Two loaded guns, check. (There was a gunpowder handloader in the company backstage that reloaded the blanks for use in the show.) I knew my character, my lines, when to shoot and when to fall–pretty much all that's needed to satisfy a willing audience of adults and children lining the town's dusty street.
I looked pretty good in a duster, a long canvas coat that the bad guy character wore. The gig only lasted for about a month–I was part of a group of temporary fill-in actors until the summer cast arrived. And that was fine, because while it was fun, it didn't pay better than minimum wage.
Why is it no one pays artists? You'd think the featured performers of a theme park with a high admission price, one that features gun-fighting shows as one of their main attractions, might get paid a decent wage? Nope! I remember the craggy owner of the park coming up to me and the other actors one afternoon and saying, "When you're between shows, don't just stand there, use the rake to rake some of the dirt on the street." I replied in my best western outlaw thespian voice that, "I don't get paid to rake, only to say my lines, shoot at the Sheriff and fall."
I'd love to post a photograph right about now from the show of me in my duster, guns held at the ready. I know I have one.
It's Digital!
Digital photography had just arrived and I made several photos of myself posed on that dusty street with my little Olympus 1.3mp camera on a 16mb SmartMedia card.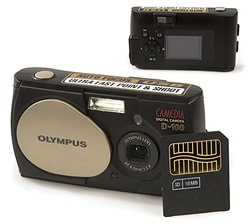 Too bad I can't find any of them now.
I know there's a copy of that photo on my father's refrigerator in Bucks County Pennsylvania. If I were there, I could scan it and show you a photo of a photo, but he's 88 and doesn't know how to make a copy and send it to me.
At least that one photo exists somewhere. (Sigh!)
Metal Bricks
It might also be in one of my older computer hard drives. Before my last move, I pulled hard drives out of eight different desktop computers, Macs and PCs, that were used over the last couple decades before recycling the big weighty boxes. Maybe the photo is on one of them. They're metal bricks stacked in a box in my closet–I have no idea how to access anything on them. I only pulled them out of the computers to save personal data from being put in the landfill–the computers no longer booted up, so I couldn't transfer any photos before yanking them.
Another one of the actors contacted me just this week, asking if I have any photos or videos from that time, from those shows, saying that he would pay dearly to show his daughter his time as a gunslinger. I told him I didn't, I only knew of that one photo on my dad's refrigerator.
The rest are all gone.
That, to me, is the best reason to print our photos. If I, a professional photographer who has many backups of photographs organized in folders and directories, cannot find a photo from 16 years ago, what's the chance that folks will have any of the photos they're making today in 20, 30, 40 years? It's not just archiving that's lacking, it's the quantity of photos that are being made and filed. It's difficult to find one out of 60,000 (digital files) compared to one out of 360 (10 rolls of film).
I was a gunslinger. There is proof I once was, it's right there on my Father's refrigerator.
I can show you a photo made last month with my finger gun at what's left of the old Buckskin Joe western town–a single sign where the town used to be, albeit misspelled! This one will last, my partner MaryLee made it on Ilford HP5.
Want to support my shows? You can, just visit this link at Paypal, or go to SupportKenneth.com to add your monthly contribution to keep the lights on!
Check out my YouTube Channel of Photography Talks: my 6×6 Portraits Blog (you're here) and my Daily Photography Podcast. Thanks!